I recently was asked to participate by representing Pennsylvania in a project by Ken Marquis called Landfillart. I accepted and put into place a surreal painting of memories from my recent trip to New Mexico by combining my hot air balloon experience with the scenery. I have included pictures with this blog.
 Landfillart is an international effort encompassing one-thousand-forty-one (1,041) artists to claim a piece of rusted metal garbage and create fine art. The 1,041 pieces of rusted metal are actually old automobile hub caps from the 1930's through the 1970's. Each hub cap, after being cleaned and primed, is affectionately called a "metal canvas." I have decided to make my piece using acrylic paint with a surreal impressionists feel.
Although the project is in its infancy Ken hopes to have it completed by 2012. It has evolved from a simple idea of taking forty-one old rusted hub caps and creating forty-one pieces of great art to have much more mass appeal with the addition of an additional (1000) talented artists who believe in this project.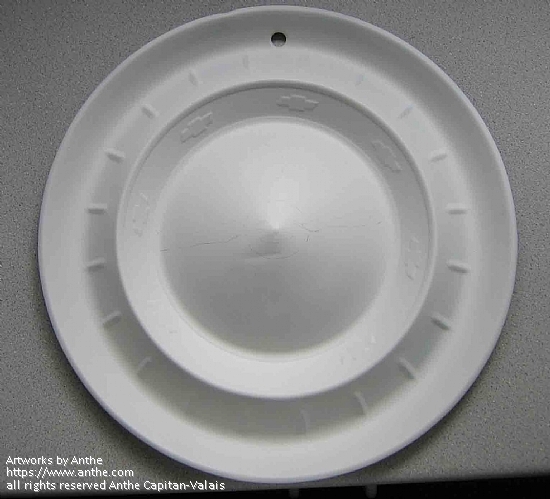 This is the blank primed hub cap canvas that I received for my project.
He has continued with his acquisition of additional rusted hub caps which will be turned into cleaned and primed "metal canvases. He will also be involved with the publishing a book on the project showcasing all one thousand forty one (1,041) completed "metal canvases." The book and will be accompanying a traveling show will publicly portray the global art community's effort to positively impact the environment through repurposing previous metal waste into great land fill art.
More information on the Landfillart project contact Ken Marquis through the website, http:// www.landfillart.org
As for my involvement; the landfillart project provided me with a hub cap, which was a 56 Chevy. In my travels out west I spent much of my time on the road traveling Route 66 and saw several vintage cars. This influenced my imagery as I combined the 56 Chevy with route 66 and my hot air balloon experience. The eye represents a look back at what I remember.
This painting is only the beginning of many paintings to come which will include the landscapes along when the hot air balloons in my new series" Up, Up, and Away."
Hot air ballooning was the most exhilarating event I think I have ever experienced. It was definitely the most fun I've had in my life as well as something I've always wanted to do. I had attempted to fly once before in my late teens when a few balloons came to our campus when I was attending Saginaw Valley State University, however aside from standing in the basket I never got off the ground due to high winds. This time the winds were not an issue, no was the weather although cold it was a clear and beautiful day.
Now I can check a big one off my "bucket list."
I would like to thank those who made this experience possible for me; starting with my husband Miltos, who sent me out there as a 25th anniversary present, my traveling companion Lorraine, the Leybas, whom we stayed with and arranged my hot air balloon trip, Mad Adventure with the Braggs, who provided the pilot and crew who made the experience a marvelous one, and last but not least "Clear Channel 106 Rock" who sponsored the balloon on which I flew along with the Armijos who helped to complete the dream.
This for me and was a once in a lifetime trip and one I shall never forget. My only hope is I can convey some of this wonderful experience into my work to share with all of you in the near future.
The following are stages of the painting I prepared for the landfillart project, which I hope will jump start this series and keep me painting in the studio for months to come.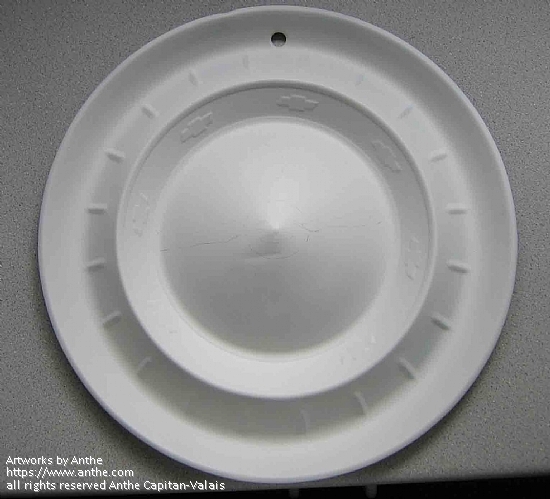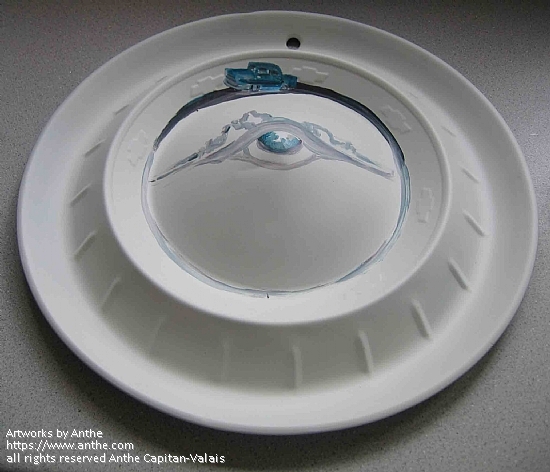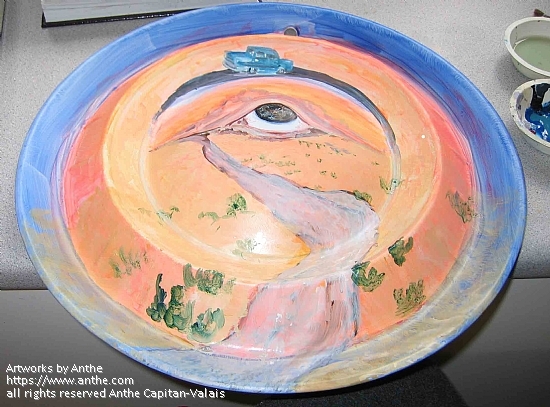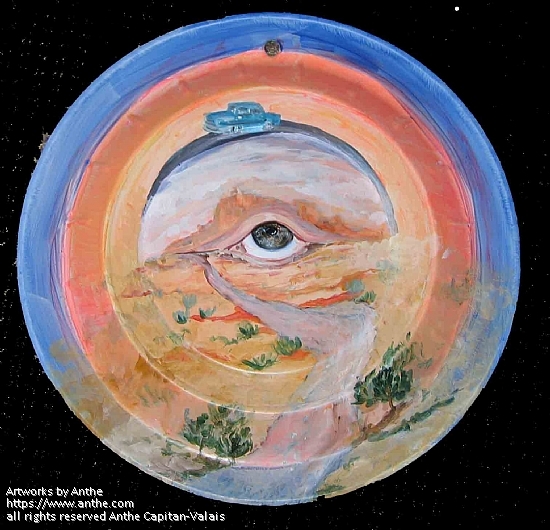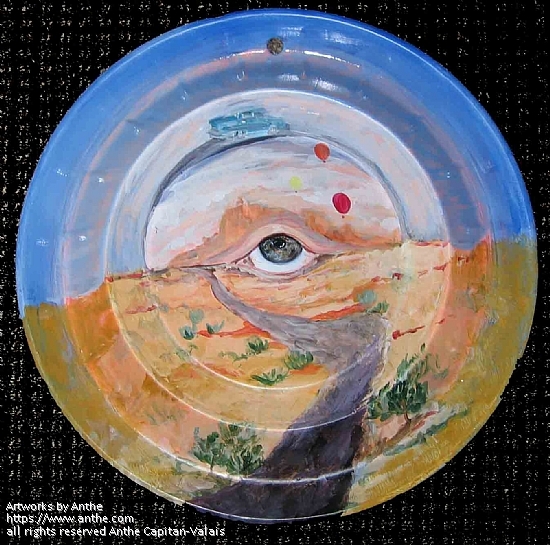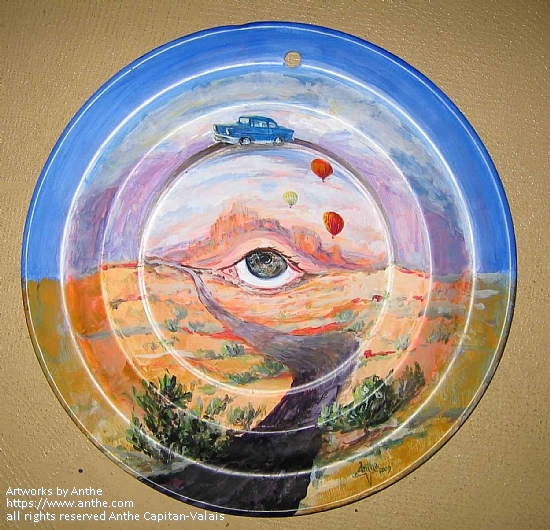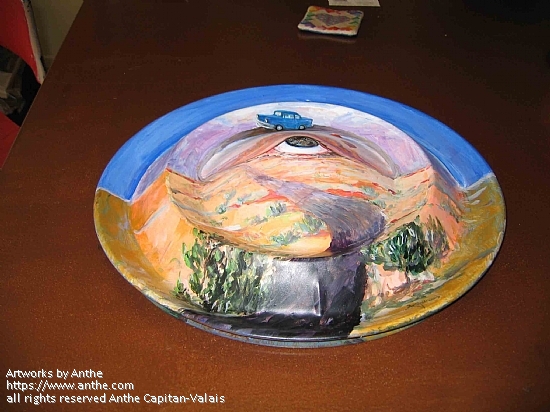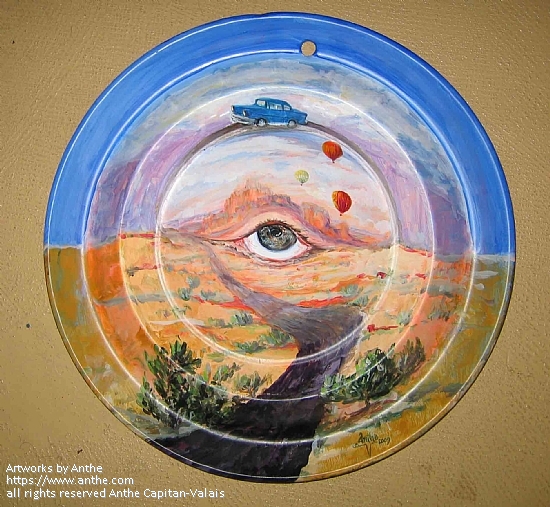 This piece will be donated to the landfill project which will travel throughout the United States see Ken Marquis,
http:// www.landfillart.org web address for more information on the landfill project.