Since I was a little child I have always felt a sense of wonderment and joy when looking at art. Whether it was the iconography in the church where I grew up or the paintings, sculptures and mixed media pieces on view at a museum, that I might have visited, one thing was for sure, I was joyful, hopeful and had a sense of love in my heart along with an urgency to create. I couldn't wait to get home to begin creating works of my own to join the menagerie of those in existence throughout the world.
Late December until just this week, my house has been torn up and going through construction. As I wrote many months ago, I left the bath water on while distracted and flooded out a portion of my studio and home. Thank God nothing much was damaged in the studio except unused goods, some furniture, paint and drywall. This all seemed to be an easy fix. Not so. It took over months of haggling with the insurance company, an adjuster as well as getting the contractor and plumber. I think perhaps I lost a bit of my sanity during the process, until the dust settled, rooms were cleaned and I could once occupy my bath, and studio.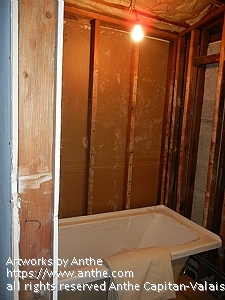 Then, I lost two computers due to age and I am holding on to this one until the fall when I will be getting a new apple. Such is life, or at least mine.
The bathroom is complete and I have begun once again to put my house, studio, and life in order. I realized I do not cope well when I am unable to make art, producing and being surrounded by new images or projects. I gain a real sense of who I am when I go through the process of creating any facet of art. Much like a composer when writing his own lyrics the production process develops the vision for me. I tend to lose my sense of who I am, when I am not able to work. I wonder if other artists go through this as well!
Two weeks ago, I began work on this year's Chestnut Hill Center for Enrichment CHCFE Designer's Show House which is located at 8305 Seminole Avenue in Chestnut Hill. (Info to follow, below) I have completed a mural in the kitchen and will soon finish a gallery room in the Grand Hall Landing on the second floor. I have received numerous comments on the impact of the peacock in the kitchen.
My job was to bring Karen's vision to fruition. I utilized the outside gardens as my inspiration and placed the peacock on a branch of a rhododendron so as to show off the tail in a royal and understated manor. I have been told by Karen, that our peacock seems to be the talk of the town. Several decorators and people connected with the home had already seen it and stopped by her shop with positive feedback.
The upper room will be transformed, with the aid of Karen's decorating skills along with my creativity and artworks. We will also be utilizing some accessories from Scarlett Begonias. The paintings are oil and acrylic from my travels stateside and abroad. I once again have my joy back as I am creating new works of art while working with a fabulous designer.
The house will be open for tours from
September 16th through October 16th, 2011
Weds 12 noon - 7 pm
Thursday 11 am - 7 pm
Friday 11 am - 7 pm
Saturday 10 am - 5 pm
Sunday 12 noon- 5 pm
On Thursday, October 6, for 6 to 8 PM, there is an "Evening with Designers".
This will be a special event with wine and cheese for the Show House attendees and designers meet.
please call 215-248-0180 or email us at chseniors@cavtel.net