A day of reflection.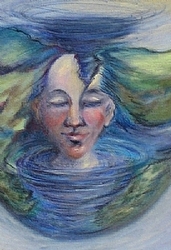 I am overdue with this blog. I am reflecting on my trip to Greece last year. The beauty of the countrysides, the clear fresh air of the mountains, the aroma of oregano in the air mixed with other sweet herbal smells, walking the beaches and looking into the water seeing with clarity all that is there. I am saddened by the tragedy of all of the fires that consumed a tremendous amount of Greece, taking mothers,children, fathers, sons and daughters not to mention the many livestock that perished as well. The landscape was marred and much of the land was torched with century old trees vanished.

I thank God that my family was not hurt, although they lost their land, olive trees, and some livestock their homes and lives were spared.
As an homage to my family, my people and the resilience of life I will be painting and dedicating my new works to the "Spirit of Greece". I have started with a series of prints and paintings of dancers. I want to convey the very essence, the life, the spirit of the Greek soul.

Many pressing issues along with the dust of everyday life have kept me from the studio for the past few months.

I have returned this week and it is as if the flood gates have opened. Thoughts, ideas, and images are being painted, printed, carved, and drawn soon to be revealed as my latest works. I feel alive when I am in the studio and what a good feeling that is.. to be alive.
I have posted paintings and are waiting for others to dry.