Welcome to Acv Studio Gallery on line with Artworks by Anthe.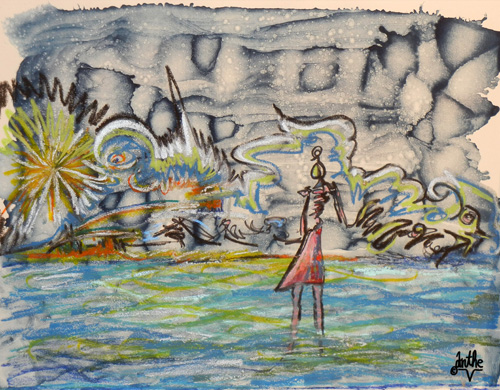 "The arts are my passion... and creating work is much like breathing, I simply do it because I must to stay alive. I have always been an artist of some sort. When I was a child I would take the cardboard pieces out of my dad's laundered shirts to paint and draw upon. I couldn't wait for the next delivery of clean shirts as it would be loaded with many a blank canvas for me to make my creations. I use to get paint by number kits and I was never one to stay in the lines so with those paints, my imagination and the cardboard from my Dad's shirts I would paint.
Years ago I was a dancer which was fun and an exciting way of expressing myself. However, I was hit by a drunk driver and that put an end to my dancing career but not to the passion of what I felt like when dancing which I retained within.
Years later, after becoming a professional artist, I was invited to attend a residency in St. Scholastique, Montreal, Canada. During my stay I was taken by my hosts to the Winnipeg Royal Ballet where I saw a rendition of Alice in Wonderland called "Wonderland". It was a contemporary ballet, without costuming which used lighting to chase the dancers on the stage. This was primarily the only light in the hall. I decided to draw, while sitting in the audience, in the dark while I watched the performance. When the lights came on and my drawings were revealed, I was in awe of the drawings. They were like none of my other works. I tended to be more of a realist with a personal expression verging on the surreal. These drawings were all about movement, motion and feelings. A few months later, I attended the Pennsylvania Academy's ballet, " Carmen" where I met Jon Sherman, a former member of the PA Ballet and the current professor of Ballet at Swarthmore College.
Mr. Sherman invited me to attend his classes at Swarthmore College. I leaped at the chance. Soon I was asked to share my work with the department and was invited to attend all genres of dance on campus. I began attending performances, classes, and then a year later, teaching drawing from dance and music at Swarthmore to youths through the Chester Children's Chorus at Swarthmore College.
Now through my art, I am able to once again express the movements I remember so vividly when I was dancing. I have expanded my knowledge of art, media, and materials as I create movement based artworks. Many of these pieces here on exhibit were created by drawing directly on to monotypes and then adding paint and color. These have plate marks in the paper.
Other works include digital collages. In these I am creating works which are made by means of drawing directly on my ipad during classes, live performances or in my studio from dance and music videos. During this process, creating a digital sketchbook. Then I input images from my digital sketchbook into photoshop. Once in photoshop I create endless works in variations of vivid colors and patterns using the line drawing previously created into what I call digital collage prints. "
Chrisoula "Anthe" Sarris Capitan Born November 18th 1910 - Died June 25th 2010
In Memory of my YiaYia and namesake Anthe 1910-2010
Pictured here at Age 94 in Ceramics Studio at her beloved Magnolia Manor, Americus GA.
To read more about this outstanding woman, mother, grandmother and best friend, read my blog .


I hope you enjoy my site and my work. If you are interested in purchasing you may do so online through the secure online shopping cart, or by contacting the me direct through Acv Studio on the contact the artist page.
If local layaway through Acv Studio is always an option to own original art.


To stay current with Artworks By Anthe please sign up CLICK HERE
Please be mindful that all works are copyrighted and may not be printed, or distributed
with out the written consent of the artist.